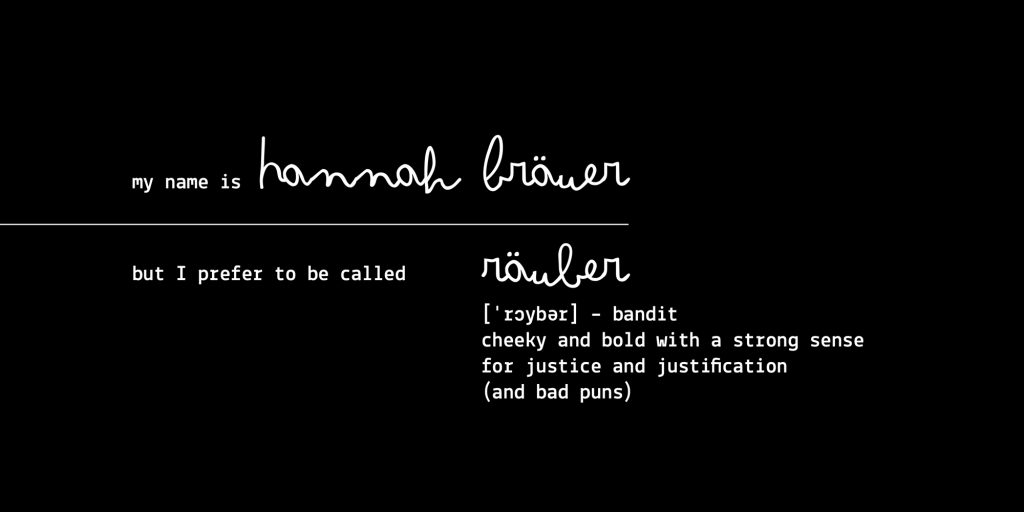 Hannah Bräuer – ein kreativer Kopf, der mit den Medien der Fotografie, Illustration, Grafik und des kreativen Schreibens arbeitet.
Dadurch, dass ich in einer gewöhnlichen Kleinstadt im ländlichen Deutschland aufgewachsen bin, aber eine vergleichsweise unnormale Kindheit hatte, hat sich schon früh eine wachsende Faszination für die Komplexität der Normalität eingestellt. Das beeinflusst mich bis heute im Kontext von Philosophie und sozialen Strukturen. Als ich in größere Städte zog, war ich sehr fasziniert davon, wie das Individuum einen Platz in einer gedrängten Gesellschaft findet. Meine größte Inspiration ist daher meine unmittelbare Umgebung und die subjektive Art, wie ich sie betrachte und empfinde.
Ich mag es, mit starken Kontrasten zu experimentieren, egal ob es sich um Inhalte oder Grafiken handelt. Außerdem arbeite ich am liebsten sehr grafisch und geometrisch orientiert mit klassischen Werkzeugen (Bleistift, Tinte, Pinsel, Federkiele, Tintenstifte gemischt mit Markern usw.) oder digital (Adobe Photoshop, Illustrator und InDesign, After Effects, Adobe Premiere). Aufgrund meiner analytischen Natur arbeite ich bevorzugt im Dokumentarischen, insbesondere wenn es um Fotografie oder Videografie geht.
Trotzdem bin ich nicht auf ein Medium beschränkt. Ich wähle das Medium, das meiner Geschichte dient, und bin daher bereit, darüber hinauszugehen. Auch wenn das bedeutet, eine völlig neue Fähigkeit zu erlernen, um meine Geschichte zu erzählen.
__________________________
Hannah Bräuer – a creative mind working in photography, illustration, graphics and writing. Since I grew up in a normal small town in rural Germany whilst having a comparatively unnormal childhood I started to notice my growing fascination with the complexity of normality. This influences me to date in context of philosophy and social structures. By moving to bigger cities I got really intrigued by the individual finding a place in a crowded society. My biggest inspiration therefore is my immediate environment and the way I observe it.
I love to experiment with strong contrasts, no matter if it's about content or visuals. Also I prefer to work in a very graphical and geometrical orientated way either with classic tools (pencil, ink, brushes, quills, ink pens mixed with markers etc.) or digitally (Adobe Photoshop, Illustrator and InDesign, After Effects, Adobe Premiere). My analytic nature draws me to working in documentary, especially when it comes to Photography or Videography.
Yet I am not constricted to just one medium. I choose the medium to serve my story and am therefore willing to go beyond, e.g. even if that means learning a completely new skill to complete my cause.
Vita
2018 – now
editorial assistent (temp)
Radio Bremen, Bremen, Germany
2015 – now
studying integrated design
Hochschule für Künste Bremen, Germany
2017 – 2018
Photography & Illustration
semester abroad at Ulster University
Belfast, Northern Ireland
2012 – 2015
3 year apprenticeship in graphic design
Mediengestalterin Print und Web
Wuppertal, Germany